Reading time
5
minutes
Olá pessoal,
All right with you?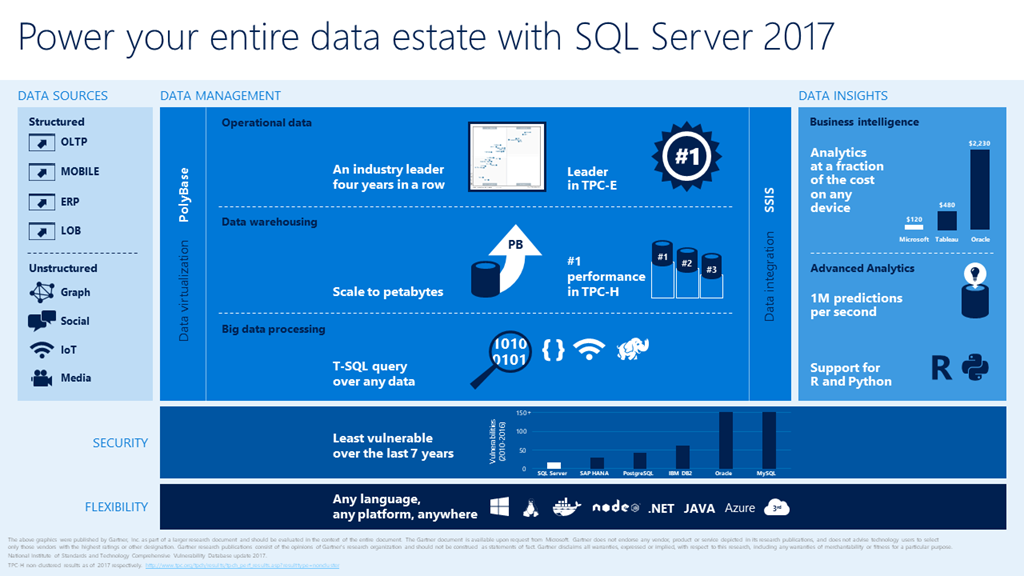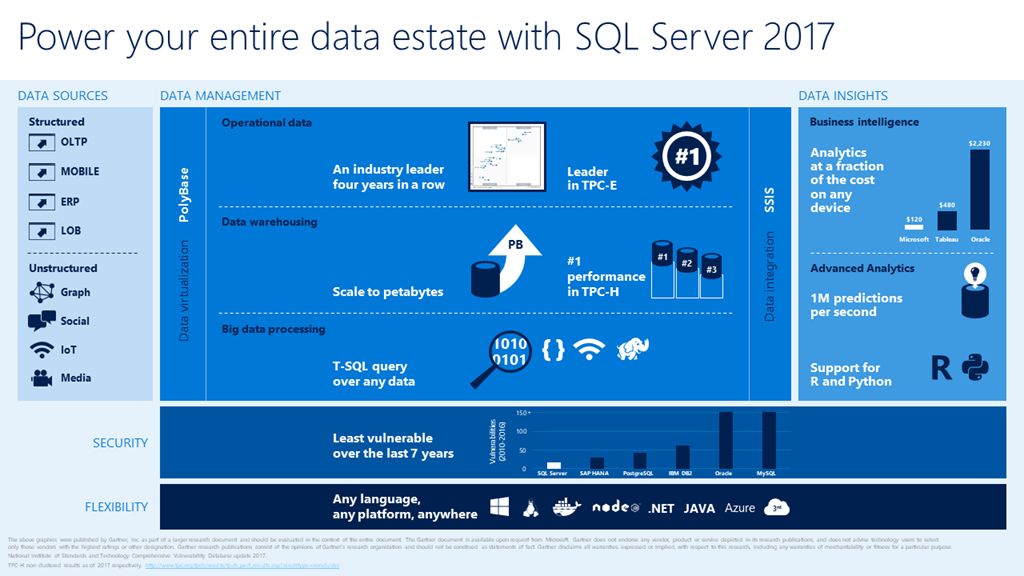 SQL Server 2017
Mais uma vez, a Microsoft nos surpreende com as suas inovações no produto SQL Server. Menos de um ano após o lançamento do SQL Server 2016, a Microsoft já está se preparando para lançar uma nova versão do produto, que é o SQL Server 2017. Se formos pensar nas versões anteriores (2000 > 2005 > 2008 > 2012 > 2014 > 2016), vimos que os intervalos começaram bem grandes entre as versões, e a partir da versão 2012 a Microsoft começou a lançar novas versões a cada 2 anos. O que a grande maioria dos profissionais SQL Server esperava, era o SQL Server 2018, mas a Microsoft se antecipou e vai lançar uma versão recheada de novidades (novamente).
Enquanto seus concorrentes inovam a passos de tartaruga em "slow motion", a Microsoft vem cada vez mais, trazendo uma gama de novos recursos, melhorias e novidades impressionantes em um curto intervalo de tempo, como vimos no post SQL Server 2016 – Lista de novidades e novos recursos.
Durante o evento Microsoft Data Amp, realizado no dia 19/04, o SQL Server 2017 foi apresentado para o público (SQL Server 2017 Community Technology Preview 2.0), disponível para Windows e Linux.
Entre os novos recursos disponíveis até então, podemos destacar:
Utilização da linguagem Python para realização de Advanced Analytics (antes era possível apenas com R)
Suporte Oficial ao SQL Server no Linux, inclusive com documentação na MSDN
Utilização de Graph extensions, que permitem a criação de relacionamentos entre dados para obter uma melhor análise e insights importantes para o seu negócio, muito útil em cenários como análise de fraude, redes sociais, gerenciamento de riscos, análise preditiva, etc.
Melhorias no Adaptive Query Processing, que vão gerar melhorias nas cargas de trabalho em diversas situações em que as metodologias clássicas de Performance Tuning não se mostram eficazes
Resumable online indexing, recurso inovador que permite realizar o REBUILD de um índice online e PAUSAR essa operação conforme a sua vontade, seja para liberar recursos no servidor para realizar algum processo urgente ou outra necessidade qualquer, e CONTINUAR de onde parou.
It just runs faster. Várias melhorias de performance foram aplicadas no SQL Server 2017, fazendo com que suas aplicações sejam executadas mais rapidamente com o mínimo (ou nenhum) esforço.
Para conferir o anúncio oficial do SQL Server 2017, acesse este link. Acompanhe também o Blog dos desenvolvedores do SQL Server para ficar sempre ligado com as novidades que estão vindo por aí.
Veja também, os vídeos oficiais dos novos recursos do SQL Server 2017, apresentados no evento Microsoft Data Amp:
Quer baixar e começar a testar o SQL Server 2017 agora?
Azure SQL Managed Instance
Como se já não bastassem as novidades do SQL Server 2017, a Microsoft resolveu inovar na nuvem também. Se muita gente não podia/queria migrar suas instâncias SQL Server On Premisses para o Azure SQL Database por conta de falta de recursos, como o CLR, SQL Agent, possibilidade de uso do Cross-database, entre outros, isso não será mais desculpa, pois a Microsoft anunciou que irá suportar instâncias SQL Server como serviço, funcionando de uma forma muito similar a que utilizamos hoje, nas nossas instâncias locais.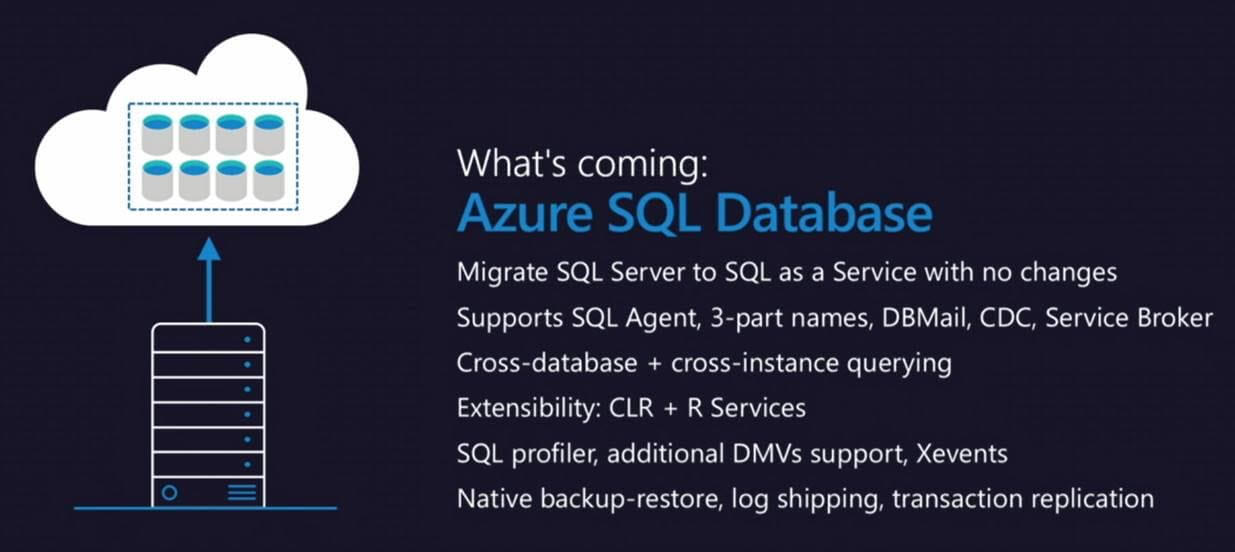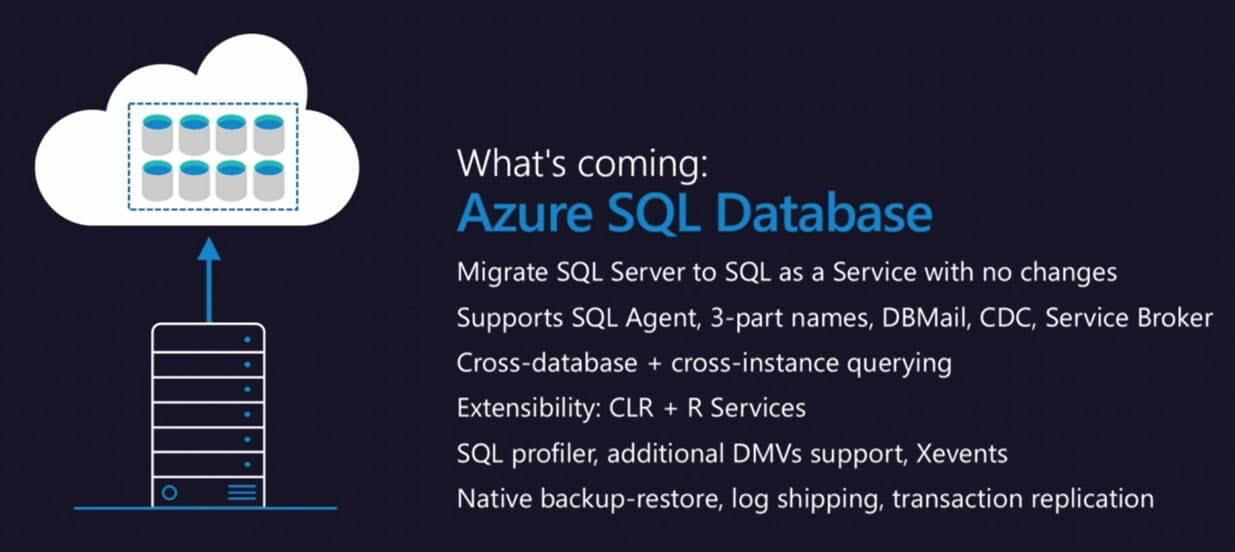 Com isso, as migrações para o Azure ficaram mais fáceis do que nunca! Além disso, a responsabilidade sobre a gestão da VM, do sistema operacional e das configurações do SQL Server continuarão nas mãos do DBA, mas todos os avanços da nuvem também estão presentes, como o Elastic Pool, rotinas de Patching e backups automáticos, facilidades para adicionar discos, etc.
Com isso, a Microsoft cria um meio termo entre uma instância SQL Server local e as instâncias Single Database Model, que funcionam atualmente no Azure, permitindo que você possa ter mais controle e recursos, utilizando o modelo Managed Instance ou maior isolamento, utilizando o modelo Single Database, conforme demonstrado abaixo: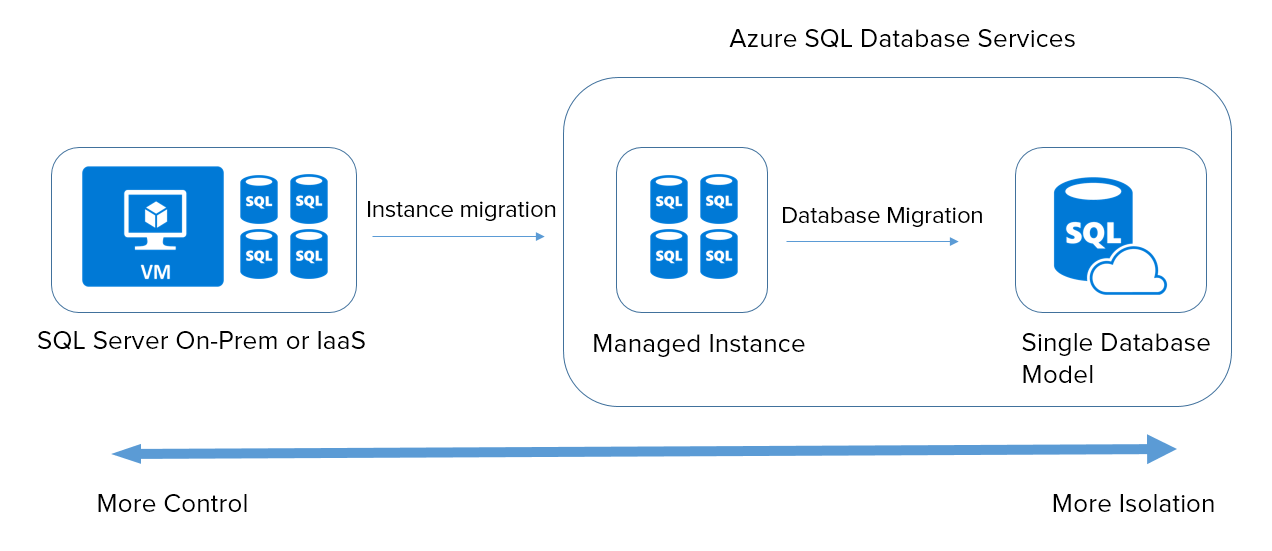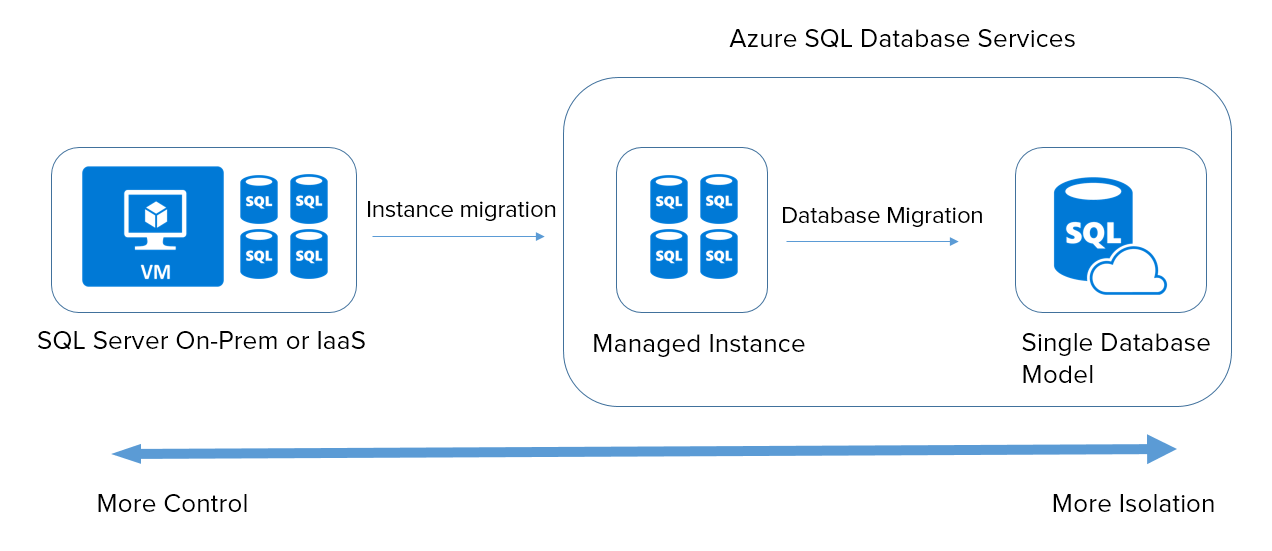 Para saber mais sobre essa novidade, não deixe de visitar este link.
And that's it, folks!
Muitas novidades estão vindo para o SQL Server.
Acompanhe o blog para ficar por dentro de todas as novidades!
Forte abraço.